Vermont Flood Resource Guide
Posted by Blair Knowles on Wednesday, July 12, 2023 at 1:04:18 PM
By Blair Knowles / July 12, 2023
Comment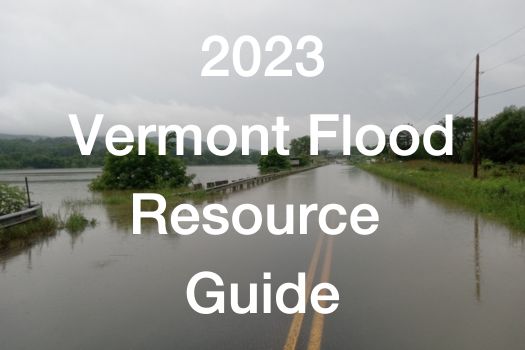 Our hearts go out to all those affected by this week's flooding in Vermont. Whether you are looking to stay informed, lend a hand, or are in need of resources, we hope this guide is helpful. If you have any edits or additions to this list, please email us at [email protected]
Much of this information has been compiled from Vermont Emergency Management and Vermont Public as well as local municipalities.
Link to general resources: https://vermont211.org/
Please stay safe!
Stay Informed
Road conditions (of State Highways): https://newengland511.org/region/Vermont
Latest weather reports: www.weather.gov/btv and www.weather.gov/aly (for Bennington & Windham Counties
VT river levels: https://water.weather.gov/ahps2/index.php?wfo=btv
Sign up for alerts at: www.vtalert.gov
Boil water warnings: https://anrweb.vt.gov/DEC/DWGWP/license.aspx?Report=Boil
Power outages: https://vtoutages.org/
School & childcare closings: https://app.vpr.org/school-closings
Lend a Hand
Volunteer:
Vermont State: www.vermont.gov/volunteer
Check your local municipality for ways to Volunteer locally, may have volunteer forms to sign up to help.
Monetary Donations:
Vermont Disaster Recovery Fund: https://www.vdrf.org/
Red Cross: https://www.redcross.org/local/me-nh-vt.html
NOFA Vermont Farmer Emergency Fund: https://www.nofavt.org/farmer-emergency-fund
Other donations:
UVM is organizing a drive for water and nonperishable "Grab and go" items. You can drop donations off in front of the Davis Center on Thursday, July 13th from 10 am - 4pm. More info: https://www.facebook.com/UniversityofVermont/posts/pfbid0FQRUuQW3Z86QirisQC4K9Wx92CCcb1ov37BBejouU7DLhKiW33RsFVSdZfpBuAp9l
Local food shelves are also a great place to donate to.
Helpful Resources
If you are a homeowner, be sure to contact your insurance company
Reporting flood damage: https://vermont211.org/
FEMA: https://www.fema.gov/disaster/3595
Federal Flood Resources (including making a claim): https://www.floodsmart.gov/
VT Senator Resource Letter: https://www.sanders.senate.gov/bernie-buzz/please-read-emergency-flooding-resources/
What to know about returning home after a Flood - Vermont Public/VT Digger Story
Emergency Shelters - Courtesy of Vermont Public
Mascoma Flood Relief Loan: https://www.mascomabank.com/emergency-flood-loan/
VT Small Business Development Center Disaster Recovery Guide for Business
Small Business Association: Once a federal disaster declaration is official with SBA and SBA programs can be offered, SBA will partner with FEMA to provide assistance through disaster recovery centers or business recovery centers in Vermont. Check out https://www.sba.gov/ for updates on financial assistance access.
VBSR (Vermont Businesses for Social Responsibility) - Flood Recovery Guide: https://vbsr.org/news-item/vbsr-flood-recovery-guide-for-businesses/
Vermont Association of Realtors: https://www.vermontrealtors.com/flood/
If you have any edits or additions, please email us at [email protected]
Thank you and stay safe!