In This Market, You Can Sell Your House On Your Own. But at What Cost?
Posted by Blair Knowles on Thursday, April 29, 2021 at 9:08 AM
By Blair Knowles / April 29, 2021
Comment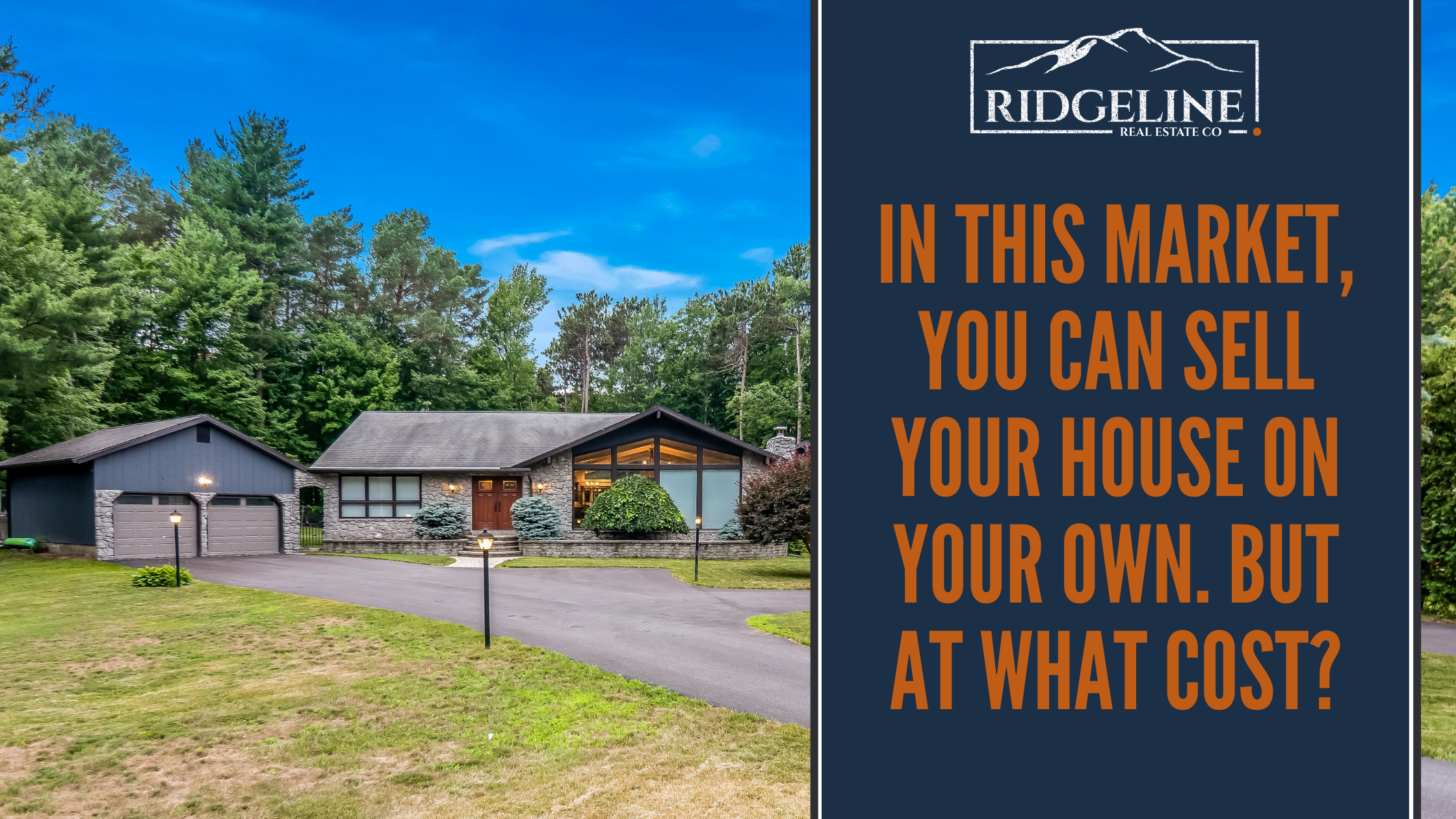 As you've heard us say over and over again, we are in the middle of an extremely strong seller's market. This might lead you to think that, during times like these, you don't need an agent! Heck, why pay someone THOUSANDS of dollars when you can do it yourself! There are buyers everywhere, it'll be easy to find one on my own! Before you run off to the hardware store to get "For Sale By Owner" signs, let us explain why that might not be the best idea, even in this hot market. But in many cases, you are leaving money on the table by NOT using an agent!
More on that later, but first let's talk about the starting point of selling your home; price. How do you know what to price your home for?
You might think it is as simple as looking at what else is for sale now in your area and picking a price somewhere around there. But actually, that is probably the worst possible way to price your home! While we do look at what is currently for sale in your area, we use what is currently for sale to determine demand and competition in your area. Why? Because the homes currently for sale haven't sold yet and are not an accurate representation of what homes are actually selling for. Sometimes (like these days), homes sell for more than they are on the market for, other times it's less and we have to factor that in too.
Instead of looking at what is currently for sale, we look at comparable properties that have actually sold and what they sold for (which is often not the same as what they were listed for). In this process, we are also incredibly picky about what comparables we use, matching it to your home on many variables. We also factor in market demand for your price point and area. All of this gives us the best possible idea of what to price your home at, which is incredibly important when selling a home. If you price too high, the home will sit on the market and not sell, price too low and you are leaving money on the table. Working with us ensures that you won't leave money on the table!
Once we set the price, our next focus is on presentation. With over 90% of homebuyers looking online, it is imperative to make a great first impression with good photos and detailed information about your home. We hire a professional photographer, at no extra cost to you, to take crisp, bright, and detailed photos of your home. A professional photographer is able to take photos that are impossible to achieve without their skill and equipment. Additionally, prior to each room being photographed, we stage the space to maximize its appeal. The combination of staging and professional photographs really makes your home stand out online and helps increase interest in your home. This helps us to drive the maximum number of potential buyers through your home.
After we professionally prepare and photograph your home, we need to get it out to the world!
In today's digital age, you may think you can reach all the buyers yourself, but this is where you need us the most! Why? Because we market directly to and reach the people who will actually sell your home; the agents. Today, over 90% of buyers are working with agents, and they are often seeing houses first and sending them to their clients. When you sell on your own and post to Facebook Marketplace, Picketfence Preview. Craigslist, or Zillow, you are actually only marketing to some of the buyers and you are completely missing out on marketing to agents. Also, did you know? Zillow purposefully makes it hard for FSBOs to reach buyers, as they don't display them with the rest of the listings, and once a buyer finds a FSBO, it is hard to find the contact info for the sellers (more on this in a future post!)
It shouldn't be this way, but I can also tell you from years in the business that agents subconsciously and/or actively avoid sending clients FSBO properties because they don't want to have to ask to get paid. Or even worse, risk not getting paid at all. Agents know that they will be paid when selling homes listed by other agents, but with FSBOs they risk not getting paid. Using an agent ensures that you are reaching the salesforce, other agents!
So far we've talked about how agents help price, prepare and market your home, but now let's chat about how we help once you actually get an offer. Receiving an offer is the most exciting part of selling a home, but there are so many small details that can be BIG issues down the road if not addressed and planned for properly. And, if you are lucky enough to receive multiple offers, each offer may be drastically different even when they might be offering a similar price. This is because there are so many other factors other than price written into offers.
Things like the type of financing the buyer is using, the inspections they want to perform, or even closing dates can drastically affect or complicate closings. Working with an agent will ensure that each possibility is thoroughly thought through and they will guide you through the offers to make the best decision based on your goals and needs.
By using an agent, you are also better protecting yourself from future liability and headaches. We are able to limit your potential liability by using our vetted and attorney reviewed forms and disclosures to ensure that you are lawfully marketing and selling your property. There are many required disclosures that you may not even be aware of that one of our experienced agents will be able to guide you through to prevent possible lawsuits in the future.
We also make sure that all the required paperwork is completed on time and all contingencies are met. Missing a deadline might not be a huge deal in everyday life, but in real estate it could mean losing thousands of dollars or even being forced to buy a property that you no longer want to buy! Your agent and closing coordinator will work together to ensure that all deadlines are met and all paperwork is completed properly and on time.
We can totally understand wanting to go FSBO to save money on commissions, in fact a few of us also tried FSBO prior to getting into real estate. But something we have learned since getting into real estate is, hiring a real estate agent can actually help you SAVE money, and in fact even help you MAKE money. Why? How?!
IF YOU READ ANYTHING IN THIS ARTICLE READ THIS PARAGRAPH. By utilizing our reach, connections and expertise, we are able to garner more interest and activity on listings than a FSBO in a compact period of time. Selling on your own you will only reach a portion of the market, whereas we can get 5x+ the amount of visibility and traction on the same home. For example, in one weekend, a typical FSBO might only have a few showings and one offer from an unvetted buyer (putting them at high risk that the sale falls through). Homes we list typically get anywhere from 20-30 showings in the first 3 days on market. In this current market, we have consistently been producing anywhere from 3-10(!) offers in the course of just a couple of days because of our reach, connections, and marketing. We are able to professionally and swiftly manage and bid the offers up against each other resulting in a higher net for the seller. We also manage and consult with our clients on appraisal risks. In many cases, we are able to strike deals with buyers who are willing to pay over appraised value. This is, of course, all dependent on the area, price, and condition of the home, but these days, using our marketing strategy, the results discussed above are seen on a weekly basis.
It is understandable that paying a listing agent can sound like a lot. What is not fully understood is that in this market, the vast majority of buyers are working with buyer's agents and buyer's agents will almost certainly ask the seller to pay them a commission. The extra charge that it costs for listing representation in your transaction, more often than not, is covered by the increased marketing traction and negotiation power brought by a great seller-side agent.
Ready to sell in less time, for more money and fewer headaches? Contact us today!