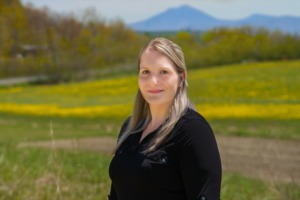 Born and raised in Jeffersonville Vermont, Taylor is a passionate full-time Realtor and a volunteer firefighter with the Cambridge Fire department. The desire to problem-solve under pressure, and to come to the aid of others has followed her into how she approached real estate. 
Taylor works alongside her clients to find the right strategy to help buyers find a home, and help sellers move on to their next adventure. As an agent, she uses her knowledge and experience to consider out-of-the-box strategies and uses her thoughtful problem-solving skills to get everyone to the closing table. She has deep knowledge of current technology and market trends to help you make an informed decision every step of the way. While she may not be wearing a firefighter helmet when she is working with you to find a home, she is using the same mindset to go above and beyond for you throughout the buying and selling process. Taylor's tactics and hard work paid off in 2019 when she helped 35 families achieve their goals of buying and selling in Vermont!  As your agent, Taylor's ability to listen to your needs, willingness to provide honest feedback, and a strong work ethic to get your home purchased or sold will be a reassuring guide throughout your process. 
When Taylor isn't helping you with your home, she is enjoying the outdoors with her dog, curled up with a good book, or off expanding her horizons traveling the world!
Testimonials
Taylor did an awesome job as my realtor. She helped me sell my condo as well as helping me with my dream of building. My path to the final destination was a difficult one and she was there to help the whole time. She was extremely knowledgeable and flexible as she answered or found the answers to my questions at all hours of the day. If you're looking for a realtor, I would highly recommend her! You will be happy with your decision!
Jonathan
Taylor is fantastic!! It took me over a year to find the right home and she was there to help me every step of the way. She was phenomenal about keeping things moving and organized once we found the right house. I would recommend her over and over to anyone who is looking to buy or sell a property.
Sarah
Our first home buying experience didn't come without stress and anxiety. Taylor White was always a text or phone call away to ease our worries. Taylor was always honest and completely open about every step of our journey. If we had a question she didn't immediately have an answer for, she got right back to us with the answers. Taylor has been an absolute Saint and saving grace through this and we couldn't have asked for a better realtor. The best part wasn't just having a new home at the end, it was also gaining a friend. Thank you Taylor for everything you did for us, you're hardwork and dedication to your clients is appreciated more than we could ever express
Sarah
Taylor White is great. She helped my Dad buy a house from across the country. Now he is moving to VT from WA. Thanks again.
Ryan
Taylor helped us purchase our first home and it was a great experience. She's a great resource and made the process smooth. She was flexible with our schedules, responded quickly to questions, and really helped move things along to secure our place when there were other offers coming in.
Melissa
More Testimonials