Christiana Pepin
Realtor®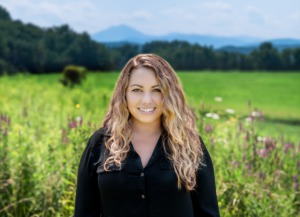 Christiana's dedication to helping people started long before her real estate career and her unwavering passion assisting people buy and sell real estate is obvious. The depth, complexity and uniqueness of each transaction makes this the perfect career for Christiana. Her true excitement for real estate and the uniqueness Vermont brings to homeowners is clear to all of her clients. No task is too big or small for the Vermont native and you will find her driving all over the state for her clients. In her down time, you will find Christiana exploring the different terrain Vermont has to offer and hiking with her dogs. She is an avid gardener, and enjoys experimenting with different plants and recipes from her personal outdoor produce isle.
Testimonials
Christiana is truly a DREAM COME TRUE. Buying a home from out of state, from all the way across the country, can be daunting and scary. Especially in our new reality of COVID where the market is so crazy in Vermont and good homes sell within a day. The idea of buying a home sight unseen was not something we thought we could do, but Christiana made us feel comfortable and helped us every moment of the way. From the beginning she provided us with very detailed information on the process, best practices, what to expect, etc. Then providing helpful, detailed information and knowledge about the areas/homes we were interested in. When we were very interested in a home, she conducted great virtual house tours, letting us feel as if we were there in person to see all the details of a home. Then when we were ready to proceed, she handled the paperwork, negotiation and all the details to make this process as painless as possible for us. Her communication was second to none; super fast and full of the details you crave. She was honest and forthcoming throughout to help guide us in this unknown territory. We honestly cannot recommend her enough, she's absolutely amazing - everything you could want, and more, from a realtor!
Lisa
Excellent service would recommend to anyone. Lots of knowledge on the areas and lots of knowledge when dealing with mobile home requirements like tie downs. I came into this knowing nothing about home buying and feel that I came out of this with more knowledge and confidence.
Kristofer
Christiana was excellent to work with! She was knowledgeable, efficient, positive, and super hardworking! We so appreciate her guiding us through the process of purchasing a home.
Mary
Christiana was beyond helpful for my husband and I in buying our first home. From the first consultation meeting with her straight up until closing, she was always available to answer questions and help us through the process. She went above and beyond getting us in to see houses, which in this current market needs to be immediate. She was available at all hours of the day and wrote our offers on homes immediately, which eliminated any feelings of stress. We would 100% go with Christiana again to sell or buy a house as she made the process stress free and much less overwhelming than we would have expected. Thank you Christiana!
Tess
Christiana is amazing. I have used her for multiple multifamily houses. She is prompt, professional, and on top of the whole house buying process. I can't thank her enough.
Christopher
More Testimonials